Since 2020, global IVD industry has been fiercely impacted by COVID-19. With the growing attention paid to nucleic acid test by many countries, the IVD companies have not only developed the respiratory pathogen detection products but also applied this technology to the development and application of other pathogen detection products.
TIANGEN, as a leading company in the field of nucleic acid purification and a widely recognized upstream supplier of raw materials in the IVD field, showed itself in China (Shanghai) Public Health, Epidemic Prevention and Protective Materials Exhibition and Import and Export Fair (Shanghai Fair) 2021 with its virus detection solution package. In the Fair, TIANGEN has deepened the understanding and cooperation with the IVD company customers at home and abroad and promote IVD companies to achieve fast development in the post-epidemic time.
Since 2020, TIANGEN has provided more than 20 million tests of nucleic acid extraction reagents, more than 150 million tests of raw materials and hundreds of automatic nucleic acid extractors for the prevention, control and testing of COVID-19.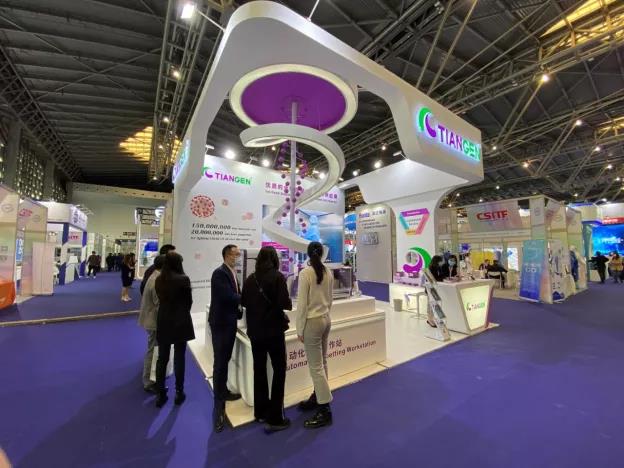 TIANGEN virus extraction raw materials have been recognized by many well-known IVD enterprises at home and abroad. In the WHO Emergency Use Assessment Coronavirus disease (COVID-19) IVDs PUBLIC REPORT  released on June 2020, the TIANGEN nucleic acid extraction kit was listed as the recommended product for nucleic acid extraction in COVID-19. In the Recommended List of Detection Reagents in COVID-19 published by The Global Fund in January 2021, TIANGEN products were listed as raw materials of many enterprises at home and abroad .
TIANGEN, equipped with the perfect export qualification and business process, has expanded the international business to more than 40 countries and regions, including Japan, Singapore, France, Argentina, Kenya, etc. In the development of overseas business, TIANGEN actively cooperates with domestic enterprises to march towards wider internationalization together and play a more important role in promoting the development of the healthcare of all mankind.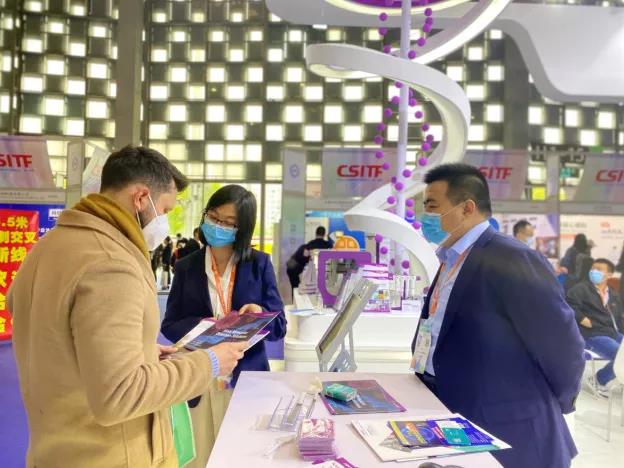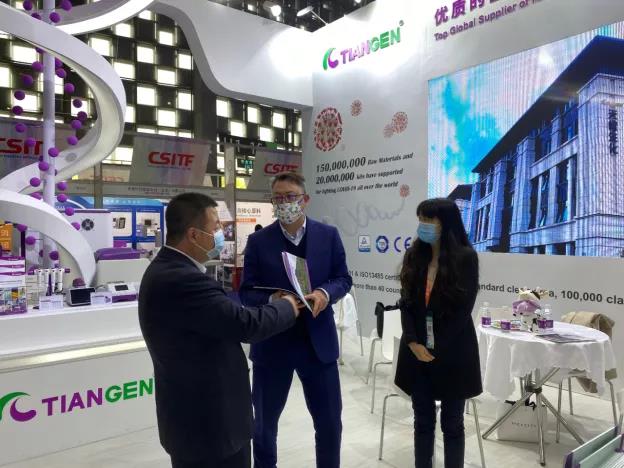 TIANGEN has more than ten years' experience in serving IVD enterprise with a unique cooperation mode suitable for the enterprise customers. A professional service team will be established by integrating the leaders of R&D, technology and project to design and provide various customized cooperation schemes according to customer needs. This model is designed to effectively help customers solve the problems encountered in R&D and production and provide customers with customized solutions more suitable for future development.
In the China (Shanghai) International Technology Fair this year, TIANGEN presented not only the high-throughput automatic nucleic acid extractors and auto pipetting workstation but also the reagent products and raw materials for SARS-COV2 test, which attracted the domestic and foreign IVD enterprises in the Fair to communicate.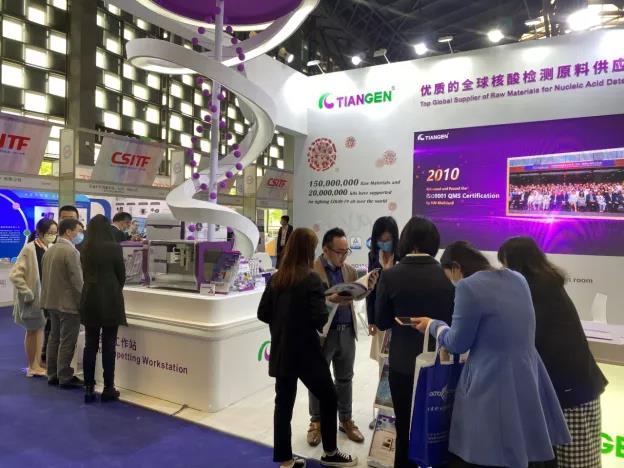 TIANGEN has always provided high-quality raw materials and customized solutions for molecular diagnostic reagent manufacturers, medical research institutes, CDC and other application units and provide various molecular biology research solutions for universities, research institutes and other scientific research institutions.
In the post-epidemic time, TIANGEN will provide IVD enterprises with more new solutions for pathogen nucleic acid testing and other molecular diagnosis methods and work hand in hand with all partners to help the partners enhance their competitiveness in the international market and jointly welcome future challenges.
---
Post time: Mar-21-2021